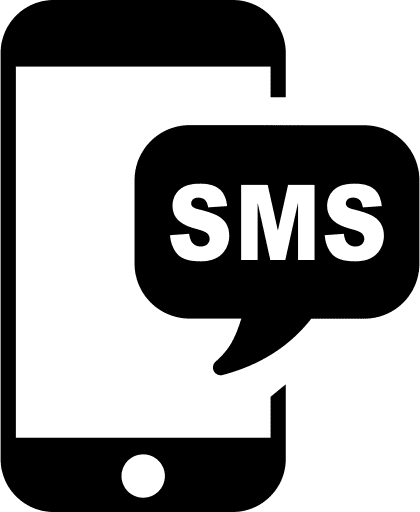 Most mobile phone carriers allow you to send SMS to their subscribers through email for free. Here is a list of providers with their email formats. If you find your provider missing, please email me and I'll add it.
United States or Canada
If the recipient's phone number is +1-202-1234567 you can send an SMS by emailing the address corresponding to the carrier service.
American Carriers
| Carrier | SMS Email | MMS Email |
| --- | --- | --- |
| AT&T | 2021234567@txt.att.net | 2021234567@mms.att.net |
| Boost Mobile | 2021234567@sms.myboostmobile.com | 2021234567@myboostmobile.com |
| Cricket Wireless | 2021234567@sms.cricketwireless.net | 2021234567@mms.cricketwireless.net |
| Google Project Fi | 2021234567@msg.fi.google.com | 2021234567@msg.fi.google.com |
| Mint Mobile | 2021234567@tmomail.net | 2021234567@tmomail.net |
| Republic Wireless | 2021234567@text.republicwireless.com | 2021234567@text.republicwireless.com |
| Sprint | 2021234567@messaging.sprintpcs.com | 2021234567@pm.sprint.com |
| Straight Talk | 2021234567@vtext.com | 2021234567@mypixmessages.com |
| T-Mobile | 2021234567@tmomail.net | 2021234567@tmomail.net |
| Telus | 2021234567@msg.telus.com | 2021234567@msg.telus.com |
| Ting | 2021234567@message.ting.com | 2021234567@message.ting.com |
| US Cellular | 2021234567@email.uscc.net | 2021234567@mms.uscc.net |
| Verizon | 2021234567@vtext.com | 2021234567@vzwpix.com |
| Virgin Mobile | 2021234567@vmobl.com | 2021234567@vmpix.com |
Canadian Carriers
| Carrier | SMS Email | MMS Email |
| --- | --- | --- |
| Bell Mobility | 2021234567@txt.bell.ca | 2021234567@txt.bell.ca |
| Fido (Canada) | 2021234567@fido.ca | 2021234567@fido.ca |
| MTS Mobility | 2021234567@text.mtsmobility.com | 2021234567@text.mtsmobility.com |
| Rogers Canada | 2021234567@pcs.rogers.com 2021234567@sms.rogers.com | 2021234567@pcs.rogers.com |
| President's Choice | 2021234567@txt.bell.ca | 2021234567@txt.bell.ca |
| Sasktel | 2021234567@sms.sasktel.com | 2021234567@mms.sasktel.com |
| Virgin (Canada) | 2021234567@vmobile.ca | 2021234567@vmobile.ca |
Change the recipient's phone number : 1-

This article was first written in 2004. The last update was on July 13, 2022.

{ % include 'ajrwd' %}