The Philippines is a beautiful country to visit. Plus, my wife's parents and siblings live there, so we travel there regularly. We have been to Manila, Quezon province, Boracay and Zambales, among others.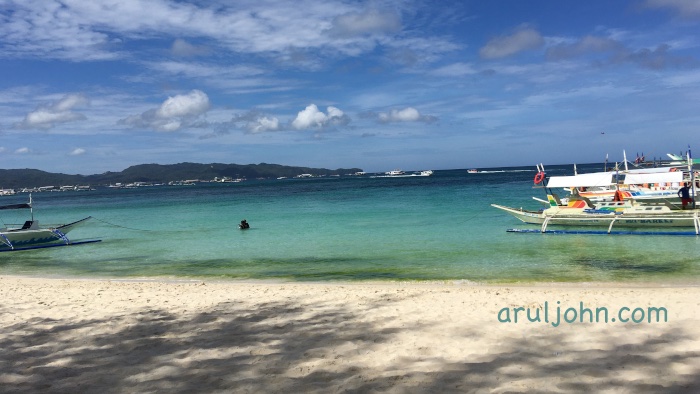 Our trip to Boracay beach, Philippines
The Philippines has 7,641 islands
Q: How many islands are there in the the Philippines?

A: 7,641
If you are going to the Philippines mainly as a tourist, you have 7,641 islands to visit. For a long time, the number was 7,107, and then recently, the National Mapping and Resource Information (NAMRIA) discovered 534 more islands, so the total number is now pegged at 7,641 islands. Out of these, only about 2,000 of these islands are inhabited.
The Philippine islands are divided into these three major groups - Luzon, Mindanao and Visayas. The capital city of Manila, the lovely provinces Quezon and Zambales are in Luzon. The breath-taking Boracay island, also called Bora, is in Visayas. I visited all these places with my family over the years. The Philippines has a ton of beaches, and there are a lot of water sports activities.
After having visited the Philippines multiple times, I compiled a list of useful items that a tourist can consider taking to make it easier to explore the beautiful country and have a great experience. This list will be useful for couples, groups of friends, families with children as well as adventure seekers.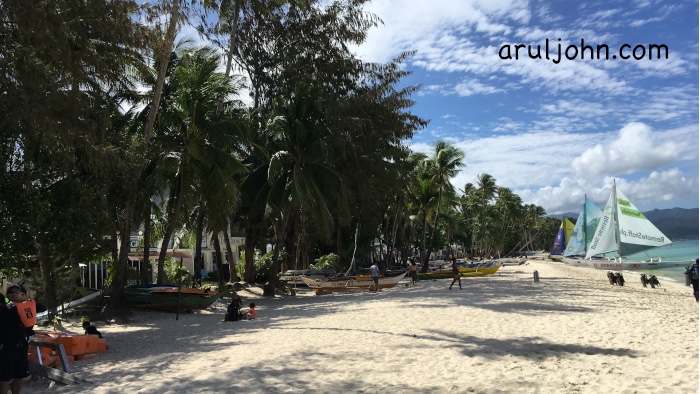 Boracay beach, Philippines
Checklist 📝
This is a checklist of everything you may find useful. A few items are basic necessities for everyone, while others are for the bloggers and vloggers.
Reusable Water Bottle
Backpack for daily use
Sunscreen
Mosquito and Insect Repellent
Swimwear, bathing suits and towels
Dry Bag
Ziploc bags
Waterproof Phone Case
Travel Wallet / Passport Holder
Money pouch or Wallet
Cash in large bills ($100)
Flashlight
First Aid kit
Toothbrush and toothpaste
Face Masks
Portable Power Bank
Travel Insurance
Checklist for Vloggers 📹
If you are a vlogger or blogger or would just like to record your experiences and memories in more detail, this additional checklist would be useful.
Waterproof Camera
GoPro Camera for the fast and furious
Selfie Stick
Extra Memory Card (usually microSD)
External Portable Hard Drive
Reusable Water Bottle 24-32 oz
This should be #1 in your list. The Philippines is a tropical country and very hot and humid. You do need a water bottle. I prefer to avoid disposable single-use plastic water bottles. A reusable water bottle, like this Hydro Flask water bottle 24 oz, which keeps the water cold for hours is great to have. Remember to hydrate at all times.
Backpack for Daily Use
You will need a backpack for daily use, and one with multiple compartments. I have used Swissgear backpacks for decades now. They are very sturdy and comfortable to use. My favorite one is this bag and I've taken it many times to India, the Philippines and other places. I also use it for carrying other things, including my MacBook. This can fit up to a 17 inch laptop.
Sunscreen
You will be exposed to the sun quite a bit in the Philippines, especially on the beaches. Sunscreen is mandatory. Also, sunscreen can be quite expensive in the Philippines. You will find them at 7 Eleven stores and other convenience stores, but nothing beats buying organic sunscreen from your local Costco or Mom's Organic. Any sunscreen with SPF 25 or higher. SPF 30 blocks 96.7% of UVB rays and SPF 50 sunscreen blocks 98% of UVB rays. Remember to reapply sunscreen every 2 hours of exposure in the sun.
Why Organic Sunscreens?
Organic sunscreens offer a number of health benefits such as protecting against free radicals, acne, and skin aging. Many organic sunscreens contain antioxidants such as vitamin A, B3, and C. These sunscreens are made of mineral-based ingredients that are natural and safe for use on the skin. They contain essential fatty acids, which help to protect the skin from UV damage and dryness. Organic sunscreens do not contain harsh chemicals that can cause skin irritation and allergies. They also have the ability to improve your skin health by providing antioxidants and other nutrients that your body needs. Organic sunscreens are safe for the environment. They should work as well as non-organic sunscreens.
Badger Sunscreen and Sun Bum Sunscreen are good brand organic sunscreens that we use.
Mosquito and Insect Repellent
🦟 🪲
Being a tropical country, the Philippines has a lot of mosquitoes and other insects. There are several cases of malaria and dengue, and these spike up during the rainy season. The other diseases associated with mosquitoes are chikungunya, Zika fever, yellow fever. There are three main kinds of mosquitoes in the Philippines, and these are Aedes, Anopheles, and Culex mosquitoes, and these are responsible.
The CDC has issued travel notices for travelers who are visiting the Philippines.
It is best to be on the safe side and carry a mosquito and insect repellent.
We have used this Murphy's natural lemon and eucalyptus insect repellent for bugs, insects and mosquitoes in the US, the Philippines and India. It is a natural repellent, and provides up to 6 hours of protection against various insects.
Swimwear, Bathing Suits and Towels
You will most likely visit multiple beaches in the Philippines, except in Manila. So, take a few swimming clothes and other things with you to get ready for the beach experience.
Swimsuits, bathing suits, swimwear
Towels
Change of regular clothes
Disclaimer: I bought a couple of swimming vests and shorts in Boracay, from multiple beach shops, and really love them.
Flip-Flops and/or Beach Sandals
🩴🩴
Flip-flops are the weapon of choice for many Indian and Filipino mothers. They are also great for the beach.
I usually buy my flip-flops from the beach stores in the Philippines and love them. This trip, my wife's friend gifted me a nice pair of flip-flops. You can buy flip-flops from the local stores in the US. Remember that on the beach, you can either walk barefoot or with flip-flops. Regular shoes or sandals are not practical on any beach, unless they are explicitly made for the beach.
Dry Bag
I didn't really plan on taking a dry bag on our trip to Boracay this March 2023. And then, I saw many people on the white sandy beaches carrying them. Beach stores were also selling them, and we ended up buying an orange 20-liter dry bag from Boracay. It was very, very useful for the rest of the trip. Now, I can't imagine not having a dry bag for a beach trip.
If you want to buy a dry bag from the US before traveling to the Philippines, you can buy them on Amazon. If you want to buy a bag from the Philippines as a remembrance, then spend your pesos on the beach; the price will be about the same, whether you buy on Amazon in the US, or Philippines in the beach stores.
If you have not bought a dry bag before, a 10-liter dry bag is good for an individual. For a family, a 20-liter dry bag should be fine.
Ziploc bags
Ziploc bags may be underrated, but they are needed at unexpected times, whether to pack extra food on the go, or protect an item from other items. You may also need to temporarily store your phone in a ziploc bag. It's best to take a combination of snack, sandwich and half-gallon ziploc bags, so you have different sizes for various purposes.
We did not take many ziploc bags from the US, but got a pack of them from the AirBnb place. They proved to be very useful.
Waterproof Phone Case
If you are going to be taking photos on the beach and inside the water, it's good to buy waterproof phone cases and use them. In the past, I didn't use cases like this, and ended up getting light scratches on my phone screen from tiny sand particles.
We bought a few of these waterproof phone cases before going to the Philippines. Similar cheaper waterproof phone cases are actually sold on the Philippine beaches for around 200 pesos each, but I don't know how good or bad they would be, so I just bought these before we flew to the Philippines.
Leather Travel Wallet / Passport Holder
We have used this family leather passport holder for the last few international trips. It is very good quality and we continue to use it. We have been able to put an additional 4 passport-size books into it while visiting India and other documents as well. There are compartments for storing money.
I recommend buying something like this if you are traveling with your spouse and/or kids. When in the Philippines, store this in the hotel's safe, assuming the hotel room has a safe.
Money Pouch or Wallet
There are occasional pockpockets and money snatchers in tourist spots, so be on the lookout.
You can carry your money in a travel belt or money pouch for an added level of safety. You can buy a hidden travel money belt or wallet to carry your money.
Foreign Currency / Cash in Large Denominations $100
💵 💷
You will find quite a few money exchange kiosks in the Philippines, including on the beach front. You can exchange your foreign currency with Philippine pesos. You get more Philippine pesos if the foreign currency (US dollars or British pounds) are in large denominations. So, it's best if you carry $100 bills or the equivalent.
Also, make sure that the bills are new. A few money exchange shops do NOT accept old bills. Many also do not accept bills with ink marks on them or slightly worn out bills.
Flashlight
🔦
You can buy this from a local store for a few dollars. You can also buy one of those flashlights they hang around their neck or forehead.
First Aid Kit
A first aid kit is always good to have, with the hope that you don't need to use it. In case of emergency, though, it will prove to be useful, as we have experienced before.
You can make your own first aid kit by buying the items individually from CVS, Walgreens or Target, or you could just buy a first aid kit from Amazon.
Face Masks
😷
Wait, what? Didn't the COVID-19 train go by already? It is 2023 already!
Yes, it did. But there are some places where they ask you to mask up. When we were leaving Boracay, the airport officials asked us all to mask up before entering the airport. It was a sudden rule that implemented that day due to rising cases (in April 2023). They didn't ask us to wear a mask when we left Manila for Boracay a few days earlier. Since I always carry extra reusable masks, we were prepared for them.
There were a few malls where they insisted, and in a few other places suggested, that customers wear face masks.
Face mask rules are different in countries and across localities. It's better to carry one, just in case.
Portable Power Bank
🔋 🪫
If you are going to spend all day outside the hotel room, you may find yourself running out of battery and power outlets. Island hopping and taking multiple boats can drain your battery as well. A portable power bank will be great to have, especially if you are traveling.
This Anker power bank has a capacity of 20100 mAh with 4.8 Amp output.
Travel Insurance
I do not have any recommendations for travel insurance, but you should find the best one that your local insurance suggests. It will be in your best interest in case you fall sick or get injured while overseas.
Fujifilm FinePix XP130 Waterproof Camera
We bought this waterproof camera for our then 9-year-old daughter just before our Philippine trip. She enjoyed taking photos and videos while snorkeling in the Philippines. It worked perfectly fine and still works great. Water never entered the electronics area, and I highly recommend this camera if you would like to take high quality underwater photos. This is one of the best and affordable waterproof cameras for underwater ocean photography.
GoPro Hero11 Black Camera
If you like to record your memories on video in the best possible way, a good quality smart phone should be great. If you want to scale up, a GoPro camera would be awesome.
Flexible Tripod
A flexible tripod will be great for more mobile photography and portability. You can buy one where you mount your phone or DSLR camera on. There are many types of tripods that you can use.
Even if you are not a vlogger, you can use a tripod if you are hesitant in giving your camera to strangers and asking them to take your photos [or videos].
If you can find a tripod with a remote control like this one below, it will be an added bonus.
Selfie Stick
There is no dearth of selfie sticks in tourist spots. However, please make sure that they are not disallowed in certain areas. Also, watch out for your safety when using a selfie stick.
Extra Memory Card
It is a good idea to keep an extra memory card, just in case you run out of memory storage. If you are using a microSD card, SanDisk 256 Extreme PRO microSD is a good option.
External Portable Hard Drive
If you are carrying a laptop and need to free up some disk space, you can carry an external portable hard drive. You can buy a Western Digital 5 Terabyte Portable external hard drive from Amazon or the local Costco.
What Can You Buy in the Philippines
You can buy these in the Philippines without having to buy them in your home country. The quality is great, the price is about the same or cheaper in the Philippines, and can reduce the weight in your luggage.
Microfiber Towels
Swim clothes (your mileage may vary)
Snorkeling Gear
If you have any questions, please contact me at arulbOsutkNiqlzziyties@gNqmaizl.bkcom. You can also post questions in our Facebook group. Thank you.