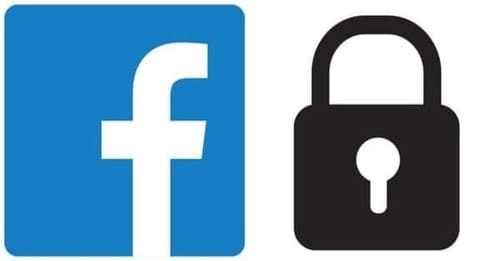 Recently, a number of people have had their Facebook accounts hacked and the passwords changed. In a few cases, the hackers impersonated them and requested money and gift cards from their Facebook friends.
How do I make my Facebook account more secure?
To make your Facebook account more secure, it is best to enable a security feature known as two-factor authentication (or 2FA). Facebook is not the only online service using 2FA. Many other online accounts such as Gmail, Outlook 365 use it to enhance security of their users.
Facebook two-factor Authentication
Two-factor authentication provides an extra layer of security. When you enable two-factor authentication, you enter the account username and password, as usual. Facebook will sent you a one-time password (OTP), either as an SMS on your phone or an authentication app such as Duo Mobile. You enter this OTP code in your login page and if correct, you are authenticated succcessfully. Another option for 2FA security is using a physical security key; this way you will not have to enter the OTP code at all.
Steps to enable two-factor Authentication
Please use a computer to do this. The mobile Facebook web version and the Facebook app do not appear to support many features in the Settings section.
First, login to Facebook and click on your profile photo. In the dropdown menu, select Settings & privacy > Settings. Select Security and Login and on the right side, click Use two-factor authentication. You will be in the Two-factor authentication page.
You can also find the two-factor authentication setup page here.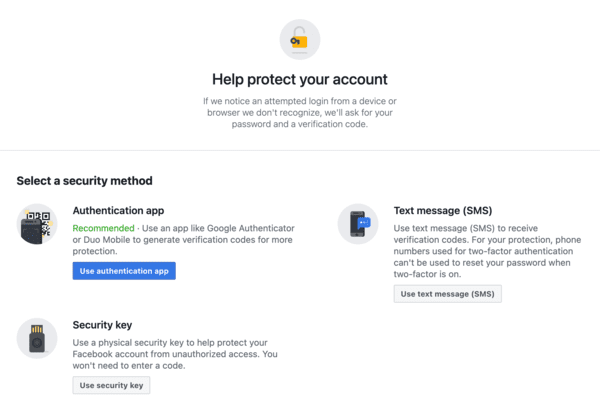 I personally prefer the Text message (SMS) option because I have my phone with me all the time. If you choose this route, click on the button labeled Use text message (SMS). You will see this window: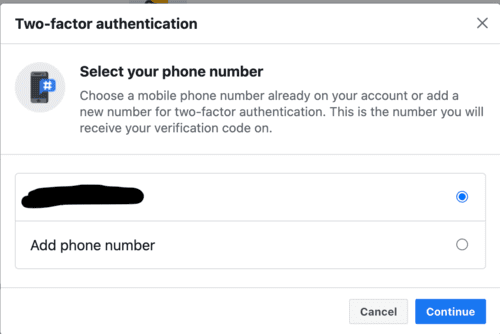 In the window titled "Select your phone number", enter your phone number and click Continue. You will see this window: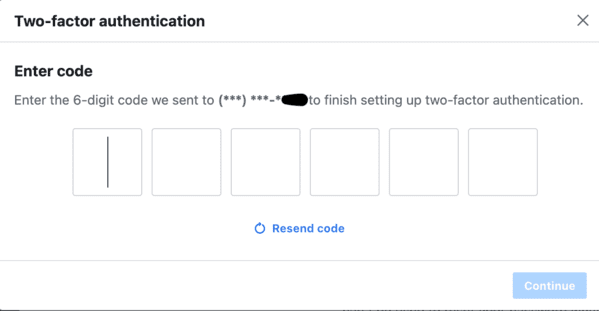 A 6-digit confirmation code will be sent to you via SMS. Enter this confirmation and click Continue.
You will be see a confirmation page that your two-factor authentication has been set up. You will have to re-enter your password.
The next page you will be taken to should say Two-factor authentication is on.
In the Security page, you will see this: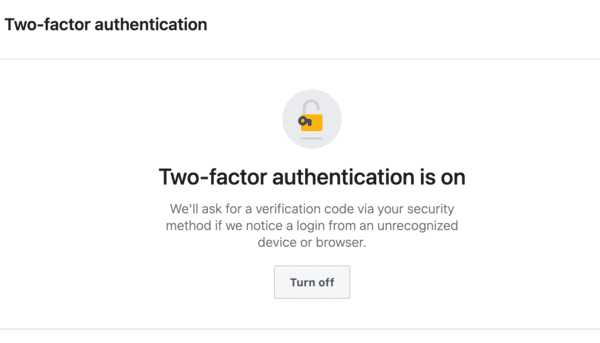 What next?
From now on, whenever you login to Facebook, in addition to entering your regular username (email) and password, you will be prompted to enter the 2FA code that will be sent to you in an SMS or authenticator app. If you suspect that someone has again hacked your Facebook account, it will not be possible for them to login unless they have your phone and can read your SMSes, or they have cloned your phone and taken it to the next level.
Did this work for you?
Did this work for you? If you have anything to report, please contact me at arulbOsutkNiqlzziyties@gNqmaizl.bkcom. Thank you.
Related Posts
If you have any questions, please contact me at arulbOsutkNiqlzziyties@gNqmaizl.bkcom. You can also post questions in our Facebook group. Thank you.