We bought a couple of Wyze outdoor plugs recently. The purpose of these was to control the outdoor Christmas lights and indoor Christmas tree lights.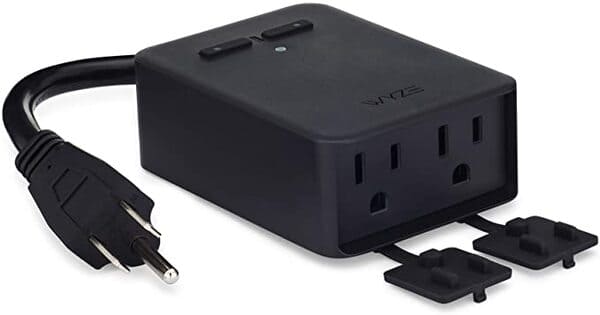 For those who do not know yet, Wyze Labs is a company founded by a former Amazon employee and started a few years ago by selling their brand of smart cameras called Wyze Cam. Wyze products are known for low prices.
I have a Wyze v2 camera and several Wyze v3 cameras in addition to the two Wyze outdoor plugs.
Previous outdoor plugs
In the past, I tried several outdoor plugs from Lowes and Home Depot and they all have their own issues. I was very impressed with the Wyze outdoor plug.
Features of Wyze outdoor smart plug
The Wyze outdoor plug is a smart plug, so it can be controlled by the Wyze mobile app or a smart device like Google Home or Alexa.
It connects to wireless Internet only on 2.4Ghz, so if your wireless router runs only 5Ghz, it will not connect to it. The wifi range is about 300 feet.
The plug has an IP64 rating. The first digit 6 represents protection against solid objects, which includes dust and dirt. The second digit 4 represents protection against splashing water.
The plug has two outlets, and both can be independently controlled either manually, or using the app or using voice control.
The plug is rated for 15 Amps, which is decent for most small home appliances. Do not attempt to connect a heater or air purifier to it.
If you live in the USA, your electricity is 120 Volts. The formula to calculate maximum power is:
Power = Current x Voltage = 15 Amps x 120 Volts = 1,800 Watts
If you are connecting several string lights together, please make sure you do not exceed the permissible rating.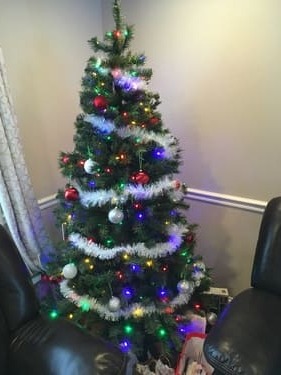 Christmas tree lights controlled by Wyze Outdoor Plug
Control via Wyze app and voice commands
Using the app, it is possible to schedule the plugs on and off at specific times. You can also schedule the timer depending on sunrise and sunset at your geographical location. We use ours by voice commands, Okay Google, turn on the Christmas lights" and Okay Google, turn on the Christmas tree lights.
Smart Energy Monitoring
This plug monitors energy consumption by the devices plugged into it. I have not verified the accuracy of the reporting, but it is impressive. The reports can be grouped by daily, weekly or monthly. There are a number of improvements Wyze can do with this app, but for my needs, this is good enough.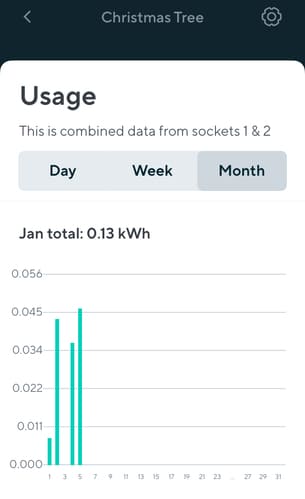 Wyze app - Energy Monitoring
Pros of Wyze outdoor plug
Both our Wyze outdoor plugs were great. With a total of 4 plugs, each individually controllable, it provided a great option to turn on our Christmas lights on and off when we were outside the house. Our kids and other kids enjoyed talking to Google Nest Hub telling it to turn off. We never had any problem with the plug(s) getting disconnected from the wireless Internet.
Cons of Wyze outdoor plug
The design of the plug that connects to the socket could have been improved to give it a right-angled shape. The rest of the plug hangs downwards and is quite heavy, and it can fray at some point or put additional pressure on the plug and socket. For reference, Wyze can look at the design of the Feit outdoor plug and actually most outdoor plugs.
If you like this plug or do not like this plug, please comment below. Thank you for reading my post.
Related Posts
If you have any questions, please contact me at arulbOsutkNiqlzziyties@gNqmaizl.bkcom. You can also post questions in our Facebook group. Thank you.