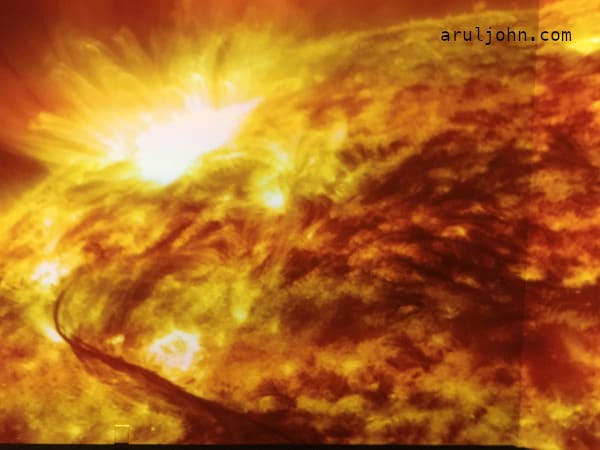 Solarium
The Solarium at NASA Goddard Space Flight Center in Greenbelt, Maryland is a small room where you get to see a time-lapse of the sun.
How is the video taken?
NASA's Solar Dynamics Observatory (SDO) has been observing the sun for over a decade. The SDO takes new images of the sun every 12 seconds in several different wavelengths of ultraviolet light. These images are downloaded at 130 MB per second. After the datasets reach earth, the information is processed many times until the projection is at 4,096 pixels per square inch. Every single image has 8 times more resolution than a high definition TV. Using this binary code in which the images are recorded, the images are created in black and white. They are them colorized. Each color corresponds to a specific wavelength of ultraviolet light, which is invisible to the naked eye. The images are also accompanied by sounds, an audio track from solar data measuring the way sound waves travel through the center of the sun.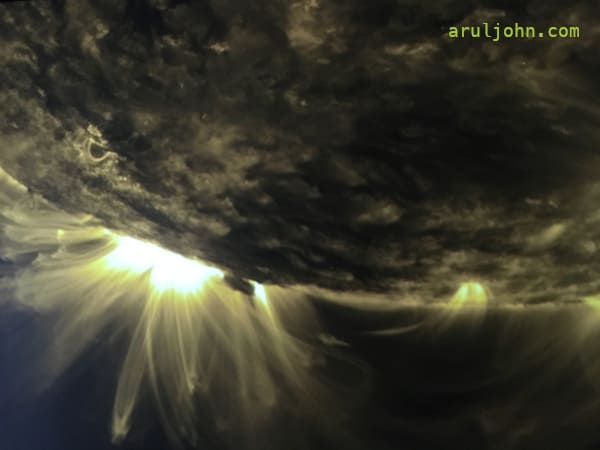 This picture was taken outside NASA's Goddard Solarium room.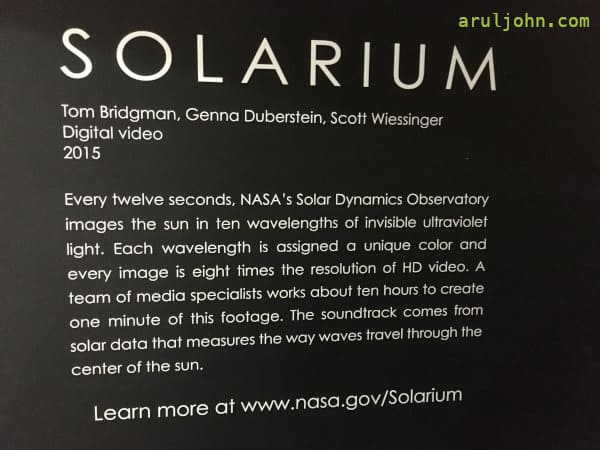 NASA's mission to the Sun
If you are interested to know more about NASA's solar missions, you can check out Parker Solar Probe. It was launched in 2018.
Last year, in December 2021, Parker Solar Probe flew through the sun's upper atmosphere, known as the corona, and sampled particles and magnetic fields there. This is a milestone in solar research.
After more flybys, we will know more about the impact of solar activities on earth.
NASA scientist Kelly Korrect talked more about the mission to the Sun.
---
Related links
NASA Scientist Kelly Korreck on the Journey to the Sun
Dr. Kelly Korreck on the Journey to the Sun
USPS Postal Stamps for Sun Science
Related Posts
If you have any questions, please contact me at arulbOsutkNiqlzziyties@gNqmaizl.bkcom. You can also post questions in our Facebook group. Thank you.