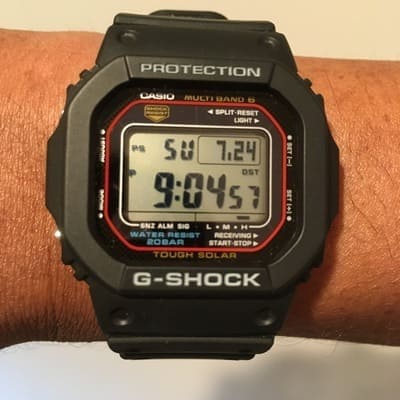 I recently bought a Casio G-Shock GWM5610U solar watch. I love this watch. This is my first non-smart watch in a very long time. This blog post is a review and comparison between my previous smart watches and current Casio G-Shock watch.
My Smart Watch history
For the last 8 years, I have used smart watches.
Pebble Smart Watch: In 2014, I bought a Pebble Smart Watch first generation. It was a great watch, very sturdy and comfortable to use. It survived travel to different countries and cities, and never buckled under heavy activity, including exercise and rain. It handled all kinds of notifications very well -- SMS, WhatsApp, Facebook notifications -- and I could even read email subject lines on it.
Fitbit Charge 2 Smart Watch: In December 2017, my wife bought Fitbit Charge 2 watches for both of us. We decided to track our 10,000 daily steps. It was a sturdy watch, though I felt it was lacking on many aspects, especially the notifications. I was able to get only my SMS on it, and that itself was flaky. It was not configured for social media or email notifications. It was great watch for its intended use, though. Unfortunately, the battery started to die, and it would go down from 100% to 0% in a few hours. RIP Fitbit Charge.
Hello, Casio G-Shock
I went on a weekend camp with my kids, and my 100% charged Fitbit went to 0% very fast. I decided I had enough of charging watches every 5 days. I wanted a watch with a battery that would last forever, like my previous Timex, Casio or HMT (an Indian brand) watches. The Casio G-Shock series was my first choice. This has a ton of features and is worth the cost.
Features ⌚
The model number is GWM5610U
This is made in Thailand
The diameter is 46.7 millimeters and the case thickness is 43.2 millimeters
The band size is 8 inches and band width is 26 millimeters
Water resistant depth is 660 feet
Battery life is for 10 years, but it gets recharged all the time
Battery indicator if battery charge is low
Tough Solar Power recharges the battery using a solar panel using any indoor light
Multi-Band 6 synchronizes time accurately with 6 Atomic clocks world-wide
Countdown timer with 5 daily alarms and one snooze alarm
10/100 second stopwatch
LED light (there is no backlight with this version)
My Notes 📝
After having used my new Casio G-Shock watch for over a month, I feel that it has been great so far. The watch fits my wrist perfectly. The time shows up perfectly even in bright sunlight. I do not have to cover the watch with my palm in order to read the time.
The battery seems to always be charged. The time is always accurate and it does not seem to lose seconds at all. I love the fact that it has a stainless steel back. I miss the heart rate monitor that my Fitbit used to have. I also miss the step counter, but I can use my iPhone for counting my steps.
I do not miss the watch faces or any of the fancy features in my last two smart watches. I figured that a watch is mainly intended for telling the time.
It would be a bonus to have a heart rate monitor, a step counter and maybe an oximeter. There are other Casio G-Shock models with those options, but again, they have to be recharged every few days and I am not too keen on charging my watch every few days. In short, I would really love for a solar powered smart watch.
I have not tested the stopwatch and timer yet, but will do in the near future and update this blog.
For a while, Casio G-Shock watches have been approved for use by the US Marines, SEALs and NASA astronauts, and that's added information on the reliability and quality of this product.
Conclusion
If you are looking for a regular watch that just works and keeps accurate time, I recommend this Casio G-Shock watch.
My rating of the G-Shock GWM5610U watch is 5 / 5.
🛒 You can buy the Casio G-Shock GWM5610U watch on Amazon.
Point to note: This watch does NOT have an EL Backlight. I'm not sure why it's listed in the features, but the EL Backlight was an old feature and removed in the current model (which has an LED light).
If you have any questions, please contact me at arulbOsutkNiqlzziyties@gNqmaizl.bkcom. You can also post questions in our Facebook group. Thank you.